What defines good fashion? One of the things it means to me is versatility; the ability to use one piece in many different ways and to use said piece for different times of the day. Warlene, the woman behind Warlene Rene Handmade Clothing creates pieces that are so versatile you can easily go from day to night with just a change of accessory or shoe.
I had the honor of modeling some of her fall pieces that are in the shop now and I have to tell you; I was completely taken aback by the comfort and ease I felt in each piece. Creating looks is one of my favorite pastimes and when I have the time I like to dedicate just a little extra to looking and feeling good- Warlene helps me do that. When I step foot in her intimate shop at Mill No 5 on Jackson Street in Lowell, I feel like a little girl playing dress up. From her reimagined vintage line to her her own custom pieces you will leave with your heart full and be feeling like a queen.
Women everywhere take my advice- if you want some boho/edge clothing or want something created for you to your own taste, Warlene is the woman to go to. She is a boss in every way and makes you feel like one too. The pieces I modeled are gorgeous, comfortable and easy to throw on. Below I have included pictures and details about each piece. Hope you enjoy reading about these pieces and make sure to check her out!
*Note: All photography done by Brianna Youte the ever talented daughter of the Queen of fashion herself. All pieces are currently in the shop now 🙂
First Look: Long Sleeve Floral Dress/Top
Open back
Front slit that provides flexibility and mobility
Flowy style
Fabric is soft to the touch
What I loved about this outfit was how the floral/dreamy look mixed with the edginess of my ripped jeans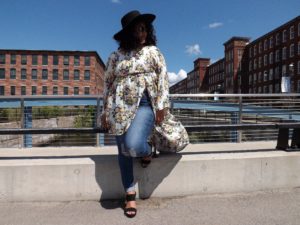 Loved how this dress made me feel…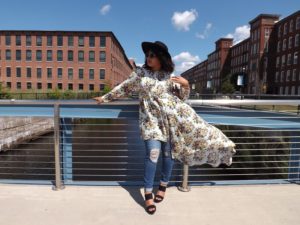 Second Look: Long, oversized denim dress with frayed ends
Super comfortable
Day to night transition
All you need is a statement necklace and you have an outfit
Things I loved about this outfit was how great I felt in it, it was a great piece to wear along with denim and created such a great vibe I wanted to take it home with me.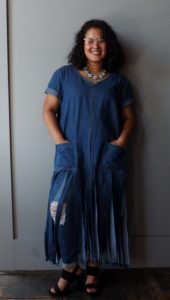 I felt amazing in this piece!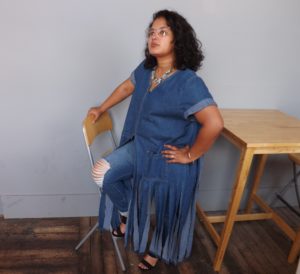 Third Look: Logo Tee with Denim Overcoat
Tee is soft and stretchy and super comfortable
Overcoat is so versatile- buttoned or unbuttoned
Quick outfit to throw together with some sneakers and specs
Things I loved about this outfit was how street it was but also incredibly stylish, great weekend look!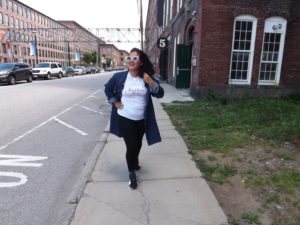 Walking the streets outside Mill No 5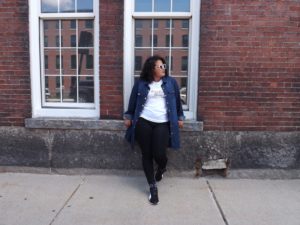 Go grab a Logo tee from Warlene's shop, they are incredible!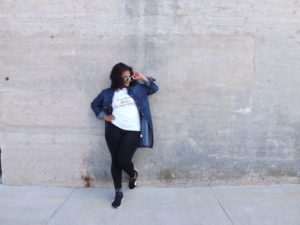 Fourth Look: Taupe Bell Sleeve Top w/Tieback
Can be tied in front or back
Incredibly comfortable and sleek
Simple yet brings a new dimension to your look
I loved how romantic this piece was, with its graceful edges and great silhouette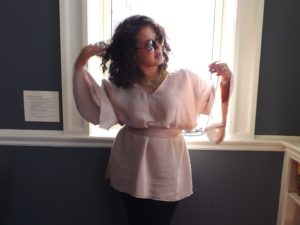 I always love pictures in motion 🙂
Loved these sleeves- bell sleeves have been one of my faves this year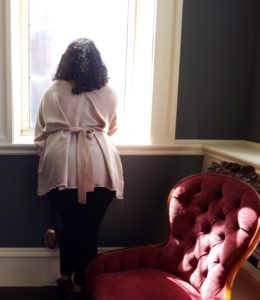 Romantic tie back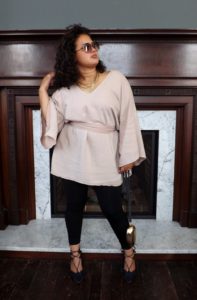 Such a fierce and classy look!
Accessory of the day: Clutch w/Denim Strap
Easy to carry
Brightens up any outfit
Denim component makes it so different with a play on texture and look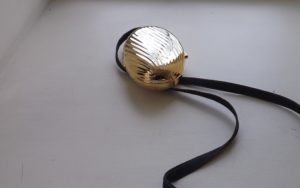 Livin that Maven Life….
Cheerio!