This particular connection event hosted by The Foundation Mixer was a breath of a fresh air. Located in the ALL (Arts League of Lowell) Gallery right outside of downtown we were surrounded by different works from Artists from every part of Lowell many of which were breathtaking. We were encouraged to discuss, interact and help each other with ideas- which was uplifting for me because of how I create. My very creative force comes from interacting with people, businesses, restaurants, and others in the community.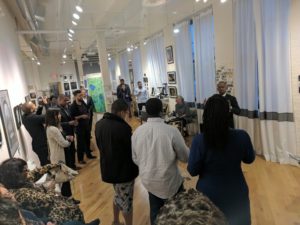 Bobby Tugbiyele Co-Founder- Sharing a few words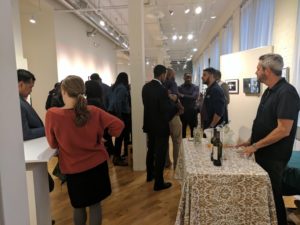 Mingling in this gorgeous location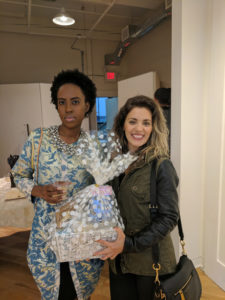 Two small business owners: Warlene & Barbara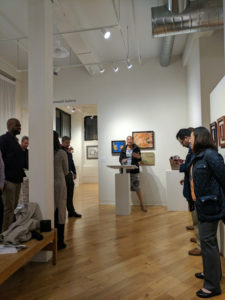 Aleksandra Tugbiyele talking to us about the amazing raffle!
Something that set this event apart from others was our special speaker Andreina Veira founder and CEO of VAS (Veira Admin Solutions) – a back office support for many different clients. As she spoke to us she encouraged us to not let the negativity that can sometimes surround us all push us down and ruin our dreams. Dreams do not become reality unless you work hard and struggle a little (or a lot) along the way. Andreina's passion for what she does and what she has accomplished inspired me to take my own work to a different level.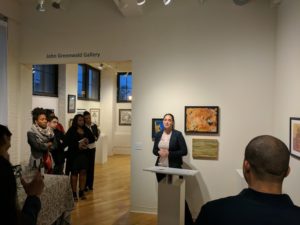 Andreina speaking with us all
Of course, I can't leave you all without giving you some glimpses of the food provided; we had lovely cheese platters prepared by the amazing Mill City Cheesemongers over at Mill No. 5 another Lowell gem. They were incredible and a perfect addition to the wine and art for the evening. If you haven't already go and check out the shop at the Mill.
Amazing Cheese Platter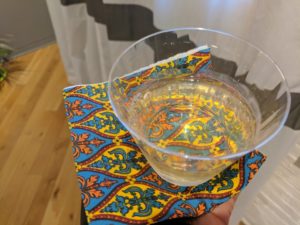 Pinot Grigio- superb
I leave you all with this thought- Don't let the mentality of others drag you down, stay the course, be inspired and continue forward.
Life as a Maven