"The true beauty of music is that it connects people. It carries a message, and we the musicians, are the messengers." -Roy Ayers
Music is an essence that binds people together. When Bobby Tugbiyele Co-Founder of the Foundation Mixer brought in Lydia Harrell a beautiful soul, to perform for the second event of the year he knew what he was doing. Together with her soulful vibes and jazz filled momentum the room was brought together.
Inspired by the surroundings, people were able to talk about their thoughts and ideas on how to make their community, business endeavors, and lives thrive. Anytime you have people from all different parts of a community, with different ideas you get this genuine vibe that creates progress. We all want to move in the right direction but we don't always have the tools ourselves to make this happen. By having events like these that focus on growth, connection, and people, it instills a sense of belonging and satisfaction that you are working towards the good of your fellow neighbor, your community, and your life.
The Foundation Mixer brought in a local Massachusetts artist and a local restaurant that provided hors d'oeuvres into Backpage Lowell; a local, intimate lounge. With a great artist and great food in a great location, people were inspired and created the kind of connection we all want.
Communities cannot thrive without their people, and they cannot thrive unless these people come from all different walks of life because of what we all bring to the table. This community feeling was achieved at this connection event and will be the constant that continues these great events.
Stay tuned for more soon and check out the pictures along with the information for the entrepreneurs who were brought in for this event.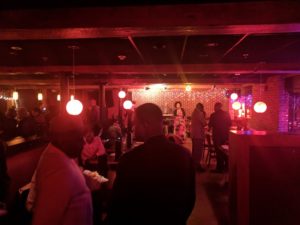 Great location!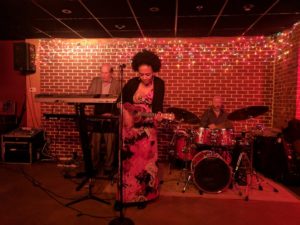 The Multi-talented Lydia Harrell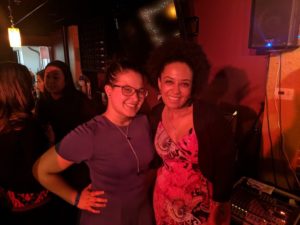 Lydia and I
For a snippet of one of Lydia's lovely performances check out my Youtube page here
Lydia Harrell click here
The Foundation Mixer click here
It's a Wrap click here
Until Next Time,
Life as a Maven