Last Friday was the kickoff to the "Friday Nights!" (End 68 Hours of hunger) event hosted by Made in Lowell and it was filled with music, food, drinks and fun for the whole family. There were a variety of food trucks, live music, and vendors to kick off the event this year and boy did I have a blast! This event was held at the Mill Yard at Canal Street in Lowell which was a great location because of the openness of the space.
I tried Let's Roll Eggroll for the first time and they were incredible. Since I love egg rolls, it was only fair I try what they had to offer and went with the "Jamaican" which was beef, curry, hot peppers and came with a Queso dip and the "Mariachi" which was chicken, beans, Mexican mix cheese and came with a Avo Ranch dip. Both were incredible and addicting, the dips complimented the egg rolls well and gave them extra kicks of flavor.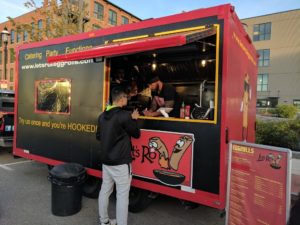 Let's Roll Eggroll Truck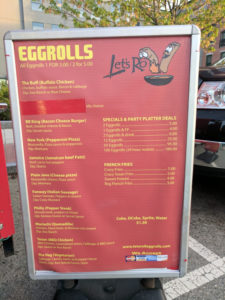 Delicious & varied menu!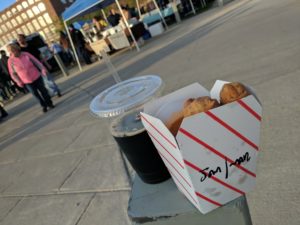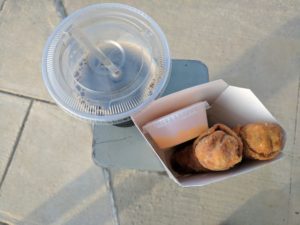 My eggrolls and a malt drink I grabbed from the Galeria Cafe kiosk
Can't wait to try the other yummy eggrolls they have to offer.
I then stopped by Clyde's Cupcakes because as you all know I have a wicked sweet tooth and could not contain my excitement that there was a cupcake truck at the location. They had so many different flavors but I ended up getting a mini cake which was listed for "two" and chowed down on that. It was chocolate cake with a yummy vanilla frosting in the layers and outside. It was a beautifully decorated cake with so much detail and the flavors were great. There were several other food trucks there but I couldn't eat any more so definitely looking forward to trying them out next time.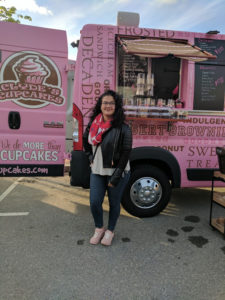 This truck!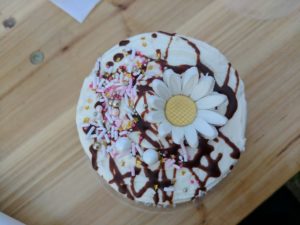 This gorgeous mini cake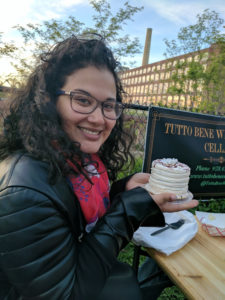 Enjoying this cake- I shared (promise)
The drink area was being run by the owners of Gormley's Cafe a local breakfast/brunch/lunch spot – Joann and Craig. They had a variety of wines, craft beers, and alcoholic seltzers. I picked up a "Nauti Seltzer" which was like an alcoholic seltzer water- quite good!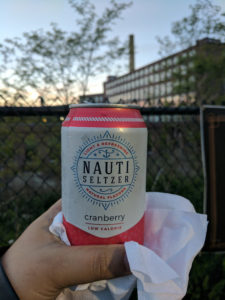 Refreshing!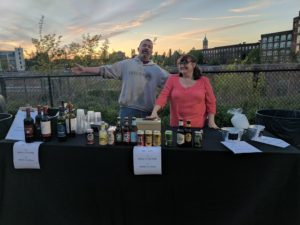 The bartenders!
Some more pictures of the event are below, if you didn't get a chance to check it out this time come next time and enjoy a night filled with great times. Great community event to engage your friends and family!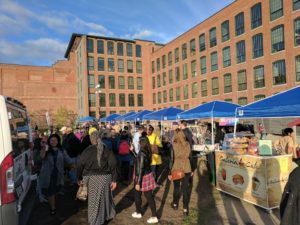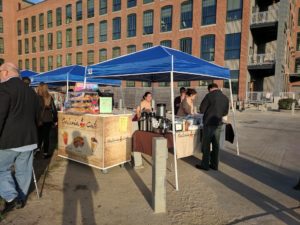 Vendor and music area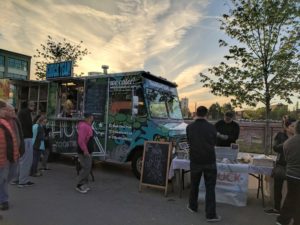 One of the other food trucks – Shuck Truck!
Life as a Maven