"Each cup of tea represents an imaginary voyage." Catherine Douzel
When I take a sip of tea I always feel like I am transported to another place where I can be peaceful and serene. So many cultures have tea as a focal point that it begs the question, "what is tea really about?" Whether its warm, calming Turkish tea after a nice meal or vibrant, energetic Matcha tea to get your day started, tea connects us to our inner joy. In taking part of this event, we all came together and experienced the joys of community and blissful moments.
Collaborating and celebrating, this is what "Teacups &  Snowflakes" an event hosted by Made in Lowell was all about. Businesses came together to partner in this event and showcase what they had to offer. During this event, I had the pleasure of tasting all sorts of tea from different places while walking around this beautiful city I call home.
First stop was Humanity Style, where Crose Nest Collective and Gormley's Cafe had set up a wonderful "Afternoon tea". Crose Nest had two blends being served as well as a miniature "blend your own" tea station so that patrons could mix their own tea blends that ranged from comforting to therapeutic; a small taste of what to expect when you go to the storefront. Gormley's Cafe had set up tea sandwiches and scones with jams and clotted cream. Browsing around a lovely shop while indulging in decadent treats and tea was a wonderful start to the event.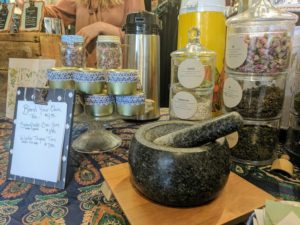 Crose Nest, "Blend your own" tea set up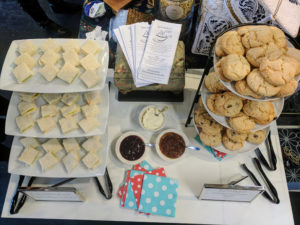 Gormley's Cafe delightful scones, cucumber sandwiches, jams, and clotted cream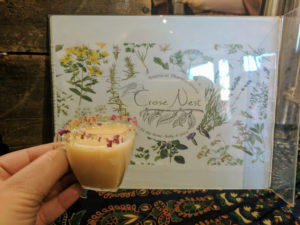 Winter Chai w/ Honey & Rose Petal rim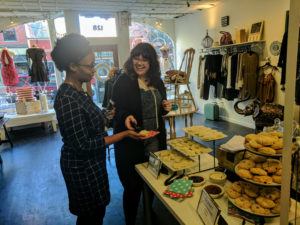 Lovely ladies having some delights!
Next stop was The Flower Mill our local florist, they were hosting The Cozy Tea Cart a lovely tea shop that hails from Brookline, NH. Not only was the set up incredible ranging from light teas to dark teas, but the bright sunlight coming through the windows and the flowers all around were an invitation to stay for a while. I delighted in the array of teas, and the yummy cardamom loaf I was able to try. A wonderful collaboration between these two businesses, and hope to see more of.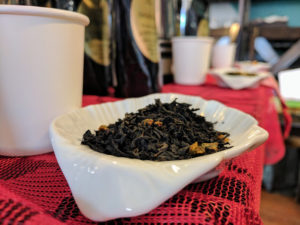 Close up of the amazing Spice black tea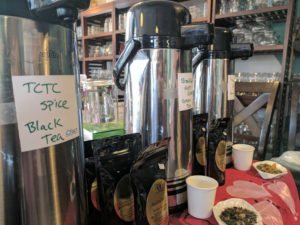 Tea setup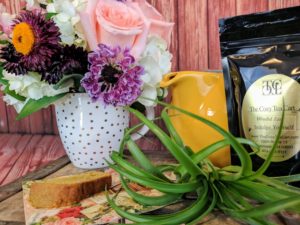 My kind of bouquet 🙂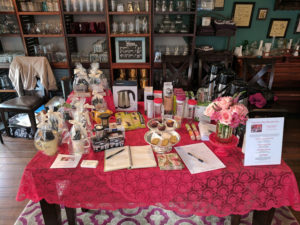 Gorgeous setup by The Cozy Tea Cart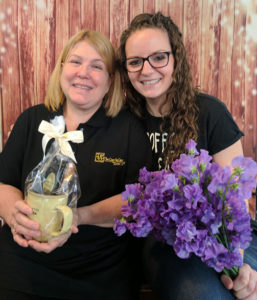 The owners and their wares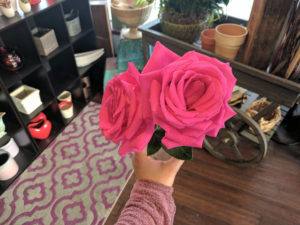 These beautiful, fragrant flowers were lovely
Next  was the COOL in the Canalway shop, which is a local shop that promotes all things local and has tons of merchandise featuring Lowell artists. Tea is the Way was the vendor set up there and the ranges of tea from Chai to Chaga(mushroom tea) was inspiring. The owner also spoke to us about the history of her teas, how they are sourced and what they are good for within your body.
Interior of  COOL in the Canalway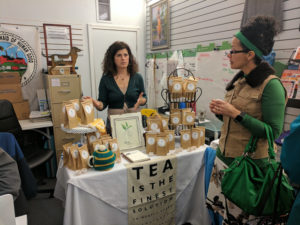 Talking about Tea 🙂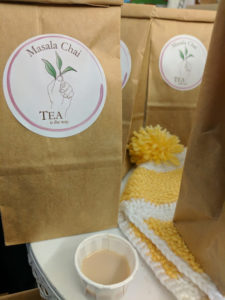 The lovely Chai
Our last stop was the wonderful Mill No 5, in which a few shops had some tea ware deals and tea tastings. First stop? Mill City Cheesemongers, one of my favorite shops because of course CHEESE. They had a wonderful display of cheeses and teas that paired well with them. We also tried some other yummy cheeses that were of course, amazing! Next was Derek Soohoo Studios, where I bought a lovely teacup/mug beautifully done by the owner. Pottery is such a wonderful artistic outlet and can really showcase an inspired individual. Our last stop was Red Antler Apothecary, they had the most lovely candles in gorgeous teacups and was a lovely, aromatic ending to our trek through Lowell.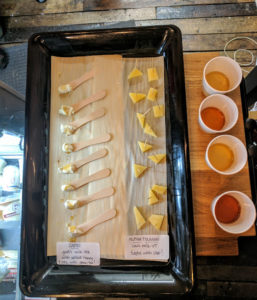 Delectable cheese and yummy tea pairings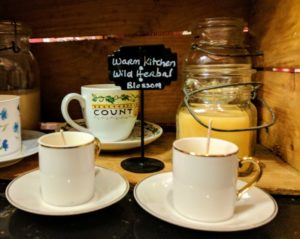 The adorabe tea candles
It's always nice to experience new things in your own city and these types of events that let you walk to your destinations are truly what connecting to your community is about.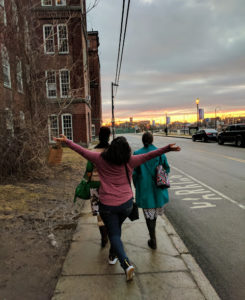 Adventure on,
Life as a Maven