"Fashion is not something that exists in dresses only. Fashion is in the sky, in the street, fashion has to do with ideas, the way we live, what is happening." — Coco Chanel
I am honored to bring you a sneak peak of the clothing that Warlene Rene Made will be bringing into Mill No. 5.
I met Warlene at a women's event hosted by Humanity Boutique in downtown Lowell. I remember that she was wearing this long, high-waisted skirt that had an incredible uniqueness to it. I asked her where she got it and she said: "I made it, this morning." I looked at the skirt again completely taken aback by the detail yet simple design of the skirt. That is what Warlene's brand is all about, simple yet elegant design. She works with different fabrics, colors, and textures but in the end, the simplicity of every piece is what make them so unique.
Bohemian in style, each piece can be worn with a simple pant or skirt because of how much her pieces compliment other looks. Not only does she create these incredible pieces but her own style looks like something straight out of a magazine. She has such a strong sense of self and is confident in the styles she chooses for herself and the clothes she makes for others.
Along with her label she will also be taking vintage pieces and recreating them in her image, I have had the chance to see some of this and they are simply breathtaking.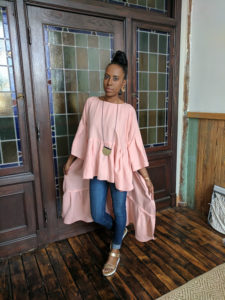 The creator modeling one of her pieces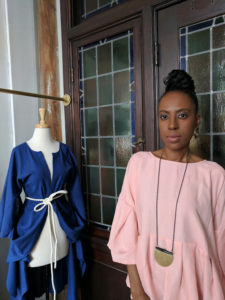 Two of Warlene's pieces
I had the pleasure of interviewing her last week and wanted to share the quick Q & A  I had with her. Hope you enjoy!
*Information on her opening day along with her social media will be at the bottom of this post.
Q & A
LM: What drew you into fashion?
WR: My dad was a tailor and I grew up with fashion all around me. I was fascinated by garment making
LM: When you create a piece for yourself or somebody else what do you hope it will do for them?
WR: Versatility is what is key when creating a piece for myself or anyone else
LM: What is your vision for this location (Mill No 5)?
WR: I want this to be a space where people come to find a unique experience different from what they could find elsewhere; a space where you can be yourself.
LM: What inspires you about Lowell?
WR: The diversity, the historical and industrious part of Lowell. There is so much creativity and this inspires me
LM: Go-to fashion piece?
WR: Denim jacket
LM: If someone comes in and they are looking for something, what do ask them or say to them?
WR: I ask them what occasion they are shopping for, I never assume they are just browsing.
LM: Who inspires you?
WR: My Aunts; they are seamstresses ( I am a third generation seamstress). I remember going into their sewing rooms in Haiti and being mesmerized. That memory still brings me back and is what inspires me.
LM: What will this shop be?
WR: It will be a showroom/small retail space. I am working on a new line of clothing which also be displayed as well.
If you want to add more individuality to your closets and add a bit of playfulness to your wardrobe than Warlene Rene is the stop for you. Check out the opening the last Sunday in May- the 28th.
Follow Warlene-
Instagram:@warlenerenemade
Facebook: The Glamouring