Soaps.Rings.Popcorn.Raw Juice.Vintage Sheet Music.Honey.Sweets
You see that list up there? Yeah this and more was at Mill No. 5 today in an amazing array of colors, set ups and displays. So much to choose from, so many gift ideas, it was an amazing time. I made out like a bandit and bought some really cool gifts and pieces for myself…just cause.
Holiday shopping locally brings me an immense amount of joy, I love supporting my city. Lowell has become an amazing city over the years and it excites me to know it continuously grows and expands its reach. The dedicated people who have their own businesses and fight for what they want to do out of life inspire me as well.
Well done Lowell yet again. Well done small business. Well done.
Check out all the cool items I purchased today and check out the links to their websites to check them all out!
This place is my go to for moisturizer, lip balm, soaps and I credit them to curing my Rosacea  my skin has never looked or felt better and I know everything is pure and whole which makes me love their products even more. Got some nifty soaps and honey from them today!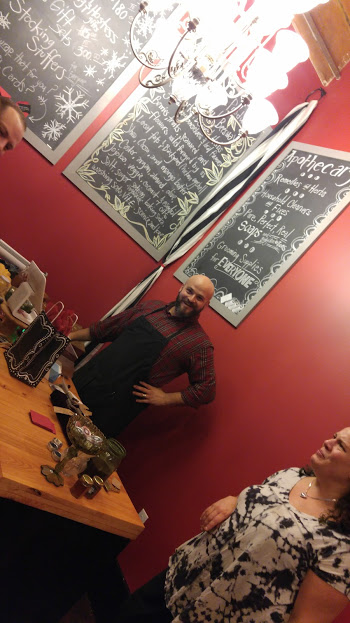 An ethereal store, full of beautiful handmade jewelry, vintage trinket trays, teacups and the list goes on. Today I got this awesome Pacman & the Ghost ring.
Since I tried this popcorn last week I am hooked. Every flavor imaginable, I bought some as gifts today and I am so excited to see reactions when they try it for the first time! I also tried some Evy Tea which they carry at Corn & Co, its cold pressed tea, absolutely amazing!
A staple in Downtown, this is the place for Marshmallows, candy bars, and other sweet treats all homemade and amazingly good! She also is at the Boston Public Market which is an awesome step forward!
What can I even say about this juice. Healthy, raw, flavorful, and just outstanding. I purchase the Beet Cold Pressed Juice!!! So happy they are now at Mill No 5.
Serpentine Books & Collectibles
Again I came into this store and walked out with two great pieces. Sheet music from mid 1800's and a Cosmopolitan magazine from 1899. Already have a place and idea for them… 🙂
All in all a fantastic day at Mill No. 5, so happy this was happening today and I cannot wait until tomorrow for the Foodie event. Stay tuned for more blog posts!
Enjoy Life! Live the best you can live!
Timna