Friday night I had the opportunity to attend both the Food Truck Madness which was held at Kerouac Park in downtown Lowell and Tacos & Tequila which was held at the Umass Lowell Inn and Conference Center.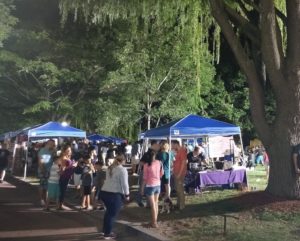 Purple Carrot Bread Co.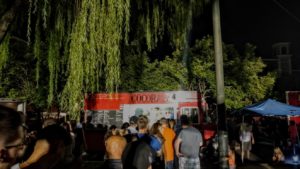 Cocorays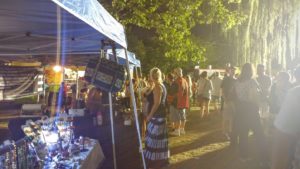 Crowds and vendors
Food Truck Madness this year, while held at the same park was a lot larger. More food trucks, more flavors, more vendors, and many new faces. It was exciting to see Galleria Cafe and Purple Carrot Bread Co. there this year, two locals newer to the Lowell food scene who have grown rapidly over the last few months.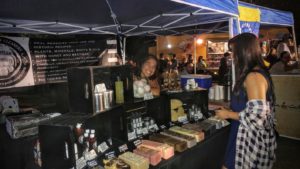 Melissa at Red Antler Apothecary & Ani from Humanity Style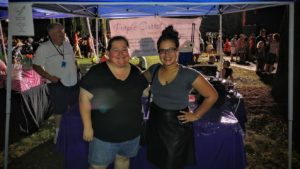 Alaina and I in front of the Purple Carrot booth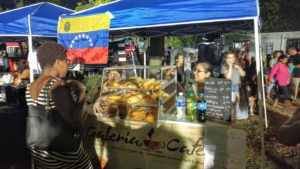 Christa buying some goodies at the Galleria Cafe booth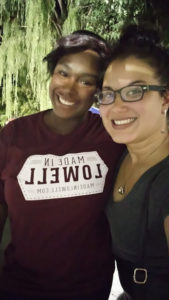 The wonderful Naychelle & I – Made in Lowell women!
Two Stylish Sisters , a wonderful duo of sisters who make the most amazing jewelry had some custom clips ready for me to pick up at the event so as you can imagine I was excited on all fronts: tons of food and pretty jewelry! 🙂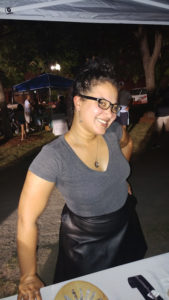 Super happy about my new Pyrite drop clip earrings 🙂
Food Trucks tried:
Cocorays – Adobada Tostadas
Chicken on the Road – Boneless chicken w/honey mustard
The Roving Lunchbox – Jamaican Jerk Chicken hand pie
Cocorays has a variety of flavors, meats, and fillings which you can put in a plethora of items such as Burritos, tostadas, tacos etc… and the flavors of the meat I chose "Adobada" along with the toppings were fresh and flavorful and had me wanting more!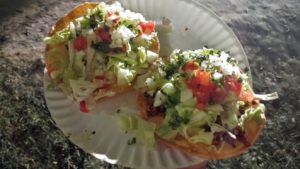 Tasty and fresh!
Chicken on the Road which is an extension of Augusta Subs & Salads had this amazing honey mustard sauce that came along with their ten-piece chicken bites. The chicken was juicy and crunchy and the sauce complimented it perfectly.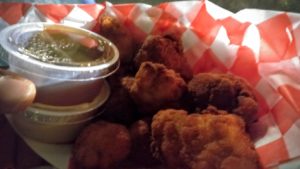 Juicy and crispy!
The Roving Lunchbox which I have had before, had an all savory menu of which I chose the Jamaican Jerk Chicken hand pie. It was spicy, flavorful and full of meat and potatoes, absolutely loved this and wanted more.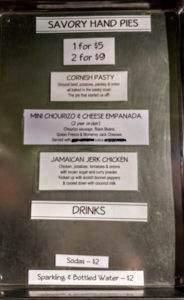 Menu for the night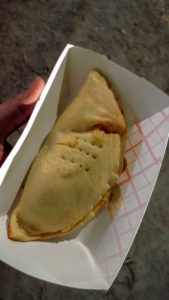 Full of so much good flavor
After eating to my hearts content, I then headed over to have more good food created by local chefs at the Umass Lowell Inn and Conference center which was about a six minute walk from Kerouac Park.
Upon arriving, the music had started and was creating a lovely atmosphere while people milled around trying the different flavors the chefs had created.
Taco creations from the following were included:
Umass Lowell Inn & Conference Center  – Spicy Tuna Taco
Connector Grill and Cafe – Pulled Pork Taco
Margaritas- Carnitas Taco
El Potro – Chimichanga with toppings
Every single one was good, different flavors across the board but well planned and incorporated into the late night event. Also present were Made in Lowell volunteers pouring accompanying tequilas that complimented the tacos. Great low key event to end the night in preparation for a full day Saturday! 🙂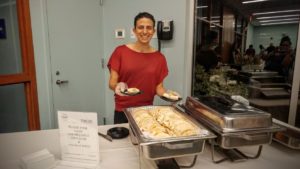 Christina from Connector Cafe & Grill
Amazing pulled pork tacos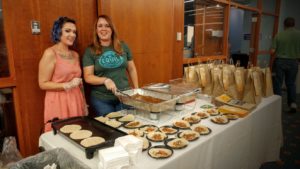 The ladies from Margaritas!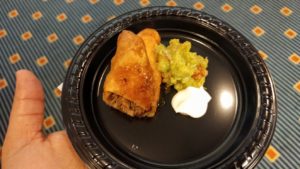 Chimichanga bite w/ Guacamole & Sour Cream: El Potro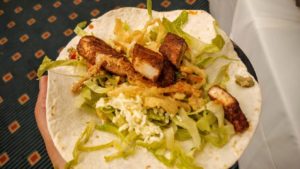 Amazing spicy fish taco: Umass Lowell Inn & Conference Center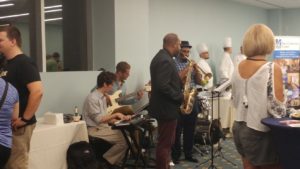 Great music from the band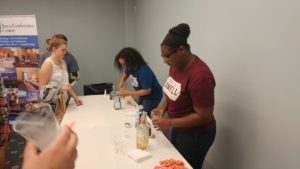 The Tequila pouring area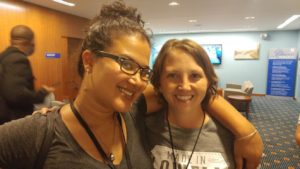 Gabby & I
This was my second year attending these events and I really enjoyed them. Made in Lowell has the capability to put on these events and make them warm, intimate and inviting which proving us with great food from local restaurants and chefs. Kudos to them for another great evening!
Stay tuned for the upcoming blogs posts on some more incredible events I had the opportunity to attend this past weekend!
Living that Maven life –